What a better way to end the year than completing our Tankoubon project?
It's with great pleasure that we deliver to you the conclusion of the
Handsome Aniki (Asuhiro)
's Tank! In chapter 8 a girl needs help with an ertic story, and in chapter 9 a sick boy needs his childhood friend to take care of him.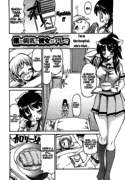 Thanks to masamune and rinruririn for the help provided in the final details of this project.
DOWNLOAD LINKS
Depositfile Link
Sendspace Link
e-hentai Gallery
-----
As promised, here are the links for the WHOLE Tankoubon.
Sendspace Link
Depositfile Link