Little White Butterflies
helped with this Translation about an amateur hypnotiser with a crush on a girl who secretely has a crush on him. Unlike other hypnotisers with a crush, at least this guy is in shape >_>.


I really like the art here. Expect Chapter 2 sometime soon.
DOWNLOAD LINKS
Megaupload Link
e-hentai Gallery
----
Speaking of LWB, they finished the Translation of Takotsuboya's new doujin. He offers a new take on anime
Ore no Imouto ga Konnani Kawaii Wake ga Nai
, where Kirino never goes to Kyousuke for life counseling. Father still learns about Kirino's hobby, and in the ensuing confrontation, Kirino ends up sending him to the hospital for stitches.
And that's just the opening pages.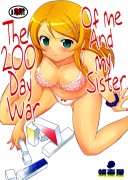 You can grab it
here.
Like
previous
Takoysuboya's
works
, this one's pretty serious/depressing/sad, but still a great read.
----
And we've got over 300,000 clicks on the Blog! Many thanks to all the people who read this! We just want to help this Cause with high-quality Translations, and your support is appreciated.